What is the Composition of Conglomerate?
Conglomerate can have a variety of compositions. As a clastic sedimentary rock, it can contain clasts of any rock material or weathering product that is washed downstream or down current. The rounded clasts of conglomerate can be
mineral
particles such as quartz or
feldspar
, or they can be sedimentary,
metamorphic
, or
igneous
rock fragments. Clasts of
quartzite
,
sandstone
,
limestone
,
granite
,
basalt
, and
gneiss
are especially common. The matrix that binds the large clasts together can be a mixture of sand, mud, and chemical cement.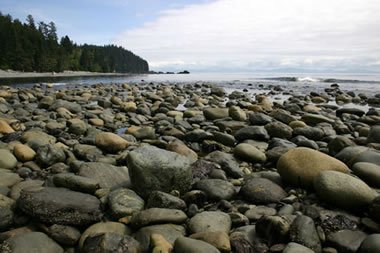 Conglomerate-Forming Environment:
A beach where strong waves have deposited rounded, cobble-size rocks. If buried and lithified, these materials might be transformed into a conglomerate. Image © iStockphoto / Jason van der Valk.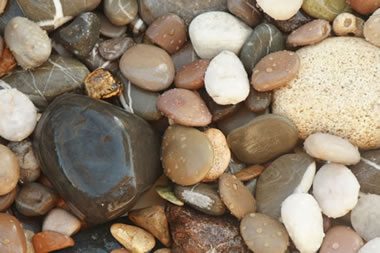 Conglomerate-Size Sediment Clasts:
Pebble-size clasts of many compositions deposited together on a beach. Quartz, sandstone, and limestone clasts are all easily recognizable. Largest clast is about two inches (five centimeters) across. Image © iStockphoto / Ivan Ivanov.
How Does Conglomerate Form?
Conglomerate forms where sediments of rounded clasts (pieces..) at least two millimeters in diameter accumulate. It takes a strong water current to transport and produce a rounded shape on particles this large. So the environment of deposition might be along a swiftly flowing stream or a beach with strong waves. These conditions might only be met during times of extreme flow or wave action. However, it is during these times that much of the Earth's sediments are moved and deposited.
To form a conglomerate, there must also be a source of large-size sediment particles somewhere up current. The rounded shape of the clasts reveals that they were tumbled for some distance by running water or moving waves. These conditions are found in streams and standing water bodies in many parts of the Earth.
Conglomerates often begin when a sediment consisting mainly of pebble- and cobble-size clasts is being deposited. The finer-size sand and clay, which fill the spaces between the larger clasts, is often deposited later on top of the large clasts and then sifts down between them to fill the interstitial spaces. After compaction, the deposition of a chemical cement then binds the sediment into a rock
In FL conglomerates form from limrock and quartz cemented together with silica (chert) and makes for some wacky looking points. I do not think it works easily due to the different materials composing it.